Massage, Acupuncture and Cupping Therapy
at Go Health Chiropractic
Massage & Acupuncture have arrived in Robbinsdale!
Robbinsdale Massage offers the best custom massage to meet each of your individual needs. Our massage therapists are licensed and trained in many different combinations of therapeutic massage techniques including: Deep Tissue, Swedish, Auto-Accident Injury, Neuromuscular, Pregnancy, Sports, and Reflexology.
Acupuncture and Cupping therapy are now offered!
Times available Mon through Friday by appointment only.
Our Acupuncturist specializes in anxiety disorders, stress reduction, insomnia, musculoskeletal pain management, fertility treatment, prenatal care and MUCH more. Schedule online or Call us at (763) 533-9997.
Schedule online to get an appointment the fastest!

Special Offers
*Try Acupuncture for only $75 90 min session. (Normally $125)
Nervous about acupuncture? Try our  30 Minute Stress Reduction treatment for only $25.
(NEW CLIENTS ONLY)
*FREE On-Site Massage for your work/group/family/party
CALL TO SCHEDULE
(763) 533-9997
Explore Our Services
We offer a wide variety of services based on Oriental Medicine principles.
Acupuncture is one of the oldest, most commonly used forms of medicine in the world. Originating in China more than 4,000 years ago, acupuncture is currently one of the most widely researched, practiced, and respected forms of complementary medicine in the U.S.
According to Chinese Medicine, your overall health is determined by the quality of the Qi (pronounced, "chee," meaning vital energy or the interplay of physiological processes) flow through the natural pathways of your body. Acupuncture uses a variety of techniques, including placing very thin sterile needles into specific points on the body, to stimulate and improve your Qi flow.
The many benefits of this type of therapy include:
Pain reduction
Relaxation of body and mind
Stress and tension relief
Increased blood circulation
Increased energy levels
Aids with digestion and toxin removal
Improved internal organ function
Relief from bad habits and addictions
Greater sense of overall well-being
Acupuncture can treat disorders such as:
Gynecological
Digestive
Ear, nose, throat, head, and face
Neurological
Upper respiratory
Urinary and reproductive
Immune function
Addictions
Cardiopulmonary
Depression and anxiety
Insomnia
Herbal Medicine is the therapeutic use of plants, and is one of the oldest and most widely used forms of health care in the world. Depending on your specific needs, we prescribe herbs that produce and contain a variety of chemical and energetic substances that act upon the body. Different herbs have been effectively used for a wide range of medicinal purposes including pain relief, hormone balancing, sleep enhancement, improved digestion, skin soothing, and stress relief.
Cupping massage therapy is a process by which a vacuum is created in a thick glass jar which is then attached to the skin via suction. It is most often used on the back or other areas where large muscles are present.
During a cupping massage, the cups are pleasantly glided across the muscles on oiled skin, while maintaining suction. The process is therapeutic, relaxing, and feels wonderful!
In medical terms, cupping brings healthy blood flow into the muscles and encourages waste products to be more effectively eliminated via the lymph system and other routes. This process nourishes the body's tissues which reduces the build-up of cellular wastes, promotes tissue healing, assists the body's natural detoxification processes, reduces inflammation, and helps to dissolve areas of knots and adhesions. The suction action on the skin and soft tissues encourages circulation and thus, the body's ability to heal itself.
In Traditional Chinese Medicine terms, cupping moves "qi and blood" and can help alleviate pain and areas of stagnation. (You can think of stagnation as areas where tissues and body fluids have become stuck). Using Chinese medical theory, the cups are also used over specific acupuncture points, selected based upon your unique body.
Cupping has a long history of therapeutic use in most cultures throughout the world and is frequently used based on both Asian and European traditions.
After a session there may be a harmless area of reddened or purplish skin present which will dissipate over time. This redness is actually a positive sign that the therapy is working as it's supposed to. Schedule your cupping today! 763-533-9997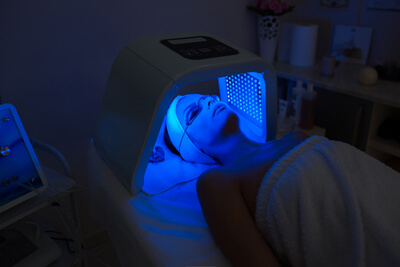 LED Light Therapy can be used by members of your ENTIRE family is able to help treat:
Arthritic Pain
Muscle and Joint pain
Acne/Scars and Wrinkles
Muscle Spasms
Helps to decrease inflammation
Jaw Pain
Bell's Palsy
Trigeminal Neuralgia and MORE!
LED light therapy uses 3 different wavelengths of light during treatments – BLUE, RED and AMBER which each penetrate the skin and tissues at different depths to help achieve a variety of benefits including:
Destroying bacteria that contributes to acne
Improving collagen elastin production in skin and tissues
Improving microcirculation to decrease inflammation and reduce pain
COST:
$50 Initial Session
$45 Regular Session (Package deal if you buy 6- Only $40/session)
$30 if adding on to acupuncture/cupping service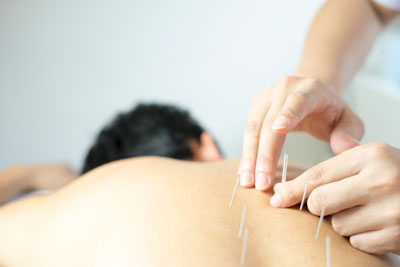 What are Trigger Points?
Trigger points are tight bands, or knots, in a muscle that cause a person to feel referred pain in other areas of the body. These trigger points can be active or dormant and can cause pain sensations that sideline many athletes.
Picture a rubber band: a "healthy" rubber band can stretch and return to its normal length without much effort. But if you tie a knot in the middle of the rubber band, it shortens and no longer can expand and contract properly. This is similar to what happens with muscles. When a trigger point causes a muscle to shorten, it loses strength, range of motion, flexibility and — most importantly — proper function.
In order to remove that knot we have to "work it out." This can be done by using a foam roller, through massage, or through acupuncture. By inserting a very thin needle into a muscle fiber that is knotted, you send a signal to the body to release the knot and restore proper function of the muscle.
How does it work?
When a massage therapist releases a trigger point, it can be very painful: they have to trap the trigger point in the muscle and squeeze with their hand until it is released. If a trigger point is released by a physical therapist or doctor who uses a syringe (a large needle), this syringe can cause excess bruising and muscle tears that take longer to heal. Acupuncture uses a tiny needle that allows access into muscles without causing excessive muscle tears and bruising, and quickly releases the trigger point.
What Should I Expect?
Prior to your first trigger point session, your acupuncturist will ask questions to determine the problem areas and will go over the process so that you understand exactly what will happen during the treatment. If appropriate your acupuncturist might do some muscle testing to see which muscles are weak or tight.
There can be some initial soreness as the formerly knotted muscles relax and return to their normal length. The benefits, however, become apparent before long.
What are the cost and time?
The initial session will take a bit longer so our Doctor of Acupuncture can get to know you a bit more. Plan around 30 mins for this first visit. Our Doctor will then assess and treat the affected area. If more than 2-3 trigger points need attention, a follow-up visit may be recommended. The cost for this first visit is ONLY $50.
If you have seen our Doctor of Acupuncture before or you are following up with another visit, sessions are typically 15 mins and cost only $40.
Cost: $50 for your initial appointment, Follow up visits only $40
Time: First visit plan 30 mins, follow up sessions are 15 mins.
If you are struggling with a bad trigger point, then this is for YOU!!
What is the fastest/easiest way to schedule a massage appointment?
By clicking the "Schedule Now" button above and accessing our online schedule. This will get you an appointment in minutes! You can always visit
www.RobbinsdaleMassage.com
to refer friends and family members to. If you have a specific question for us, please email your question or appointment request to
Robbinsdalemassage@GoHealthChiro.com
. A representative will email you within 1 business day (provided we didn't already answer it here, in our FAQ's).
I scheduled a massage, but need to change the day/date, can I get in close to my original appointment date?

Sorry, if you cancel your appointment, we cannot provide you with special arrangements. Please select a new time based on what's available online, those are the only appointments we have. Remember to check back often as appointment slots are live and do open up with cancellations.
I would like to purchase a Gift Card, where/how can I do that?

Gift cards can be purchased at our office during specific open office hours.
Can I schedule a massage for 2 people at the same time (couples massage)?

No, at this time we can only offer one massage at a time. However, you can schedule 2 appointments back-to-back.
Can I pay online for my massage when I schedule the appointment?
No, we will accept your payment at the office either ahead of time or when you come for your appointment. If you have a gift card, just bring it with you. We do require a 24-hour cancellation policy.
If you cancel without a 24-hour window, we will charge you for your missed visit.
Can I bring my children with me to wait while I'm having my massage?

Sorry, at this time we do not have a child daycare service, so you will need to schedule your massage when it's more convenient for you. Unfortunately, if you do show up with a child, you will either need to reschedule or bring them in the massage room with you.
If there is a particular therapist that I like, how can I schedule with them?

All of our therapists are exceptional, so you really can't go wrong! However, if there is a therapist you are particularly fond of, the only way to get an appointment with a specific therapist would be to do so, in person, at your next massage session. The therapist you will be scheduled with has the ability to schedule your next appointment with the therapist of your choice.
Our Rates
1-Hour Massage: (Quantity 1-5) is only $73 each.
Initial Acupuncture Appointment: New Patient Special (consult and treatment 1.5 hours) $75. NORMAL PRICE $125
Follow Up Acupuncture: (1 hour) $75 (or $65 when you buy 6 or more.)
Cupping Therapy: $40 for a 30 Minute Session
How To Find Us
We are located within Go Health Chiropractic just "kiddie-corner" to Nouvelle Brewing in Robbinsdale, across from the new Walgreens Pharmacy Drive-Thru exit, IN THE BROADWAY COURT APARTMENTS SENIOR BUILDING (Street Level). We are directly located on West Broadway, NOT on Hwy 81. Parking on street, or back behind the building is permitted for GO Health, 4101 West Broadway, Robbinsdale, MN 55422.
Get started today! Call to set up a FREE On-Site Massage for your work/group/family/party. Acupuncture available by appointment only.
---
Massage, Acupuncture and Cupping Therapy Robbinsdale MN | (763) 533-9997