Focus on Prevention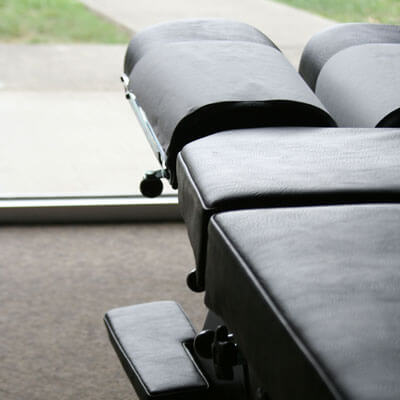 At Go Health Chiropractic, we believe you shouldn't have to wait until you're sick to have a dedicated, expert care team on your side. We're proud to have a great team of doctors and a medical staff that prioritize preventative wellness checks and more, so your whole family stays healthy and happy!
Patient-Centered Care
As a family care practice, we deeply value getting to know our patients and building trusting relationships over time. During your wellness visits and pain visits, we will establish a health history that will become the central point of your health care. We have a team of providers (Doctor of Chiropractic, Doctors of Acupuncture and Massage therapists) that work together to come up with the best treatment plan possible for each individual person.
Affordable Rates
We know that insurance can be a pain. Some plans do not cover chiropractic, massage, and acupuncture and/or you might have a high deductible that you must hit before care is covered, which is why we have very affordable cash rates for all of our services. We want everyone to be able to afford the care they need to feel great.
No Surprise Charges
At Go Health Chiropractic we are up front right away on the phone about the cost of your first visit. We have an awesome office manager who will explain in detail to you the benefits of your health insurance plan, your coverage and responsibility of the care. We won't give you any surprise charges.
Multiple Therapeutic Modalities
We understand the importance of taking care of the body, which is why our clinic offers multiple types of modalities to help aid you in a faster recovery. Therapies include Mechanical Traction, Flexion/Distraction, Massage therapy & acupuncture, Aqua Massage, Vibration Therapy, Electric Muscle Stimulation, Hot and Cold Therapy, Digital Foot Scanner, Xrays on Site just to name a few!
Ability and Willingness to Refer to Other Providers
We believe our clinic's conservative care approach continues to provide amazing results to our patients. However, in some cases we may need help with additional imaging or other providers (PT, Neurologist, MD's) to help guide you in the right direction. Our team will continue to help if it is within our scope of practice, but if not, we will refer you to the right provider to make sure your health care needs are met.
Free Nutritional Counseling
Understanding the dosage, what and when to take supplements, herbs and vitamins can be confusing. Our team of providers will give you recommendations on the proper supplements/herbs/and vitamins to help support your healthcare needs.
Free Exercise/Stretching Routines For Home
At Go Health Chiropractic, we understand that getting care is not only a financial commitment but a time commitment, which is why we provide free activities of Daily Living (stretches, exercises and more) for your own doing when you are not in our office. Many offices charge for these services. Your health care needs go BEYOND our office doors.
Electronic Medical Records
Go Health Chiropractic utilizes electronic medical records (EMRs) as a standard of care for all our patients. Your xrays, health history records and referrals are securely stored in a database that is easy to access. Sharing medical records with a specialist is quick and efficient for your convenience. EMRs enable us to provide faster and more efficient diagnosis and treatments for our patients.
Independently Owned
Our clinic is independently owned which allows our providers to have more autonomy and more meaningful relationships with our patients. Dr. Lindsay Daniels(owner) is a board-certified chiropractic physician and serves on the Robbinsdale Chamber of Commerce Board. Both Dr. Daniels and Dr. Nicole enjoy developing relationships with other businesses and with their patients that go beyond healthcare.
Individual Treatment Plans
Our team of providers put together treatment plans for each individual person. We are not pushy or "sales-y" when it comes to your care and we do not require pre-payments for your treatment. Our providers will give individualized recommendations, but we understand it is your health and your choice.
Flexible/Walk Ins
It is hard sometimes to plan ahead so our team is super flexible and we do allow for walk-in appointments for new and existing clients. We also do not charge for chiropractic no-show appointments.
Family Friendly
We understand being a parent is hard and we don't always find time for ourselves. We get it which is why we are family-friendly and have no problem having your little ones in for your visit. We have a cute kids area with books and coloring activities while you relax for your treatment.
Come see why so many people are raving about Go Health Chiropractic. We are accepting new patients! Ask us about our referral program!
Contact us
to schedule today!